Waterproofing and types of pool decoration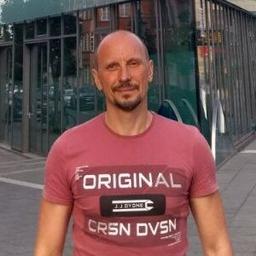 High-quality sealing and pool finishing begins with the professional production of a concrete bowl.
If we talk about the concrete bowl of the pool, then it should be:
-strong. Concrete must be of high quality;
-monolithic. You have to do everything in your power to pour the concrete during one day. Every seam in the concrete bowl threatens us with a crack in the decorative layer in the future;
-perfectly even. You have to make sure from the beginning that the pool bowl is perfectly poured out of concrete!
Any leveling of the plaster, so-called "stickers", threatens us with additional problems, such as: cracks, swelling, peeling.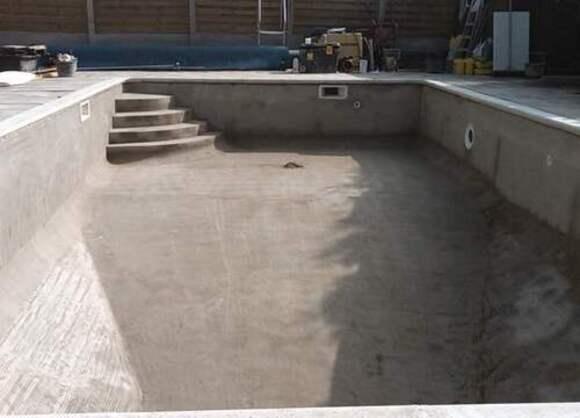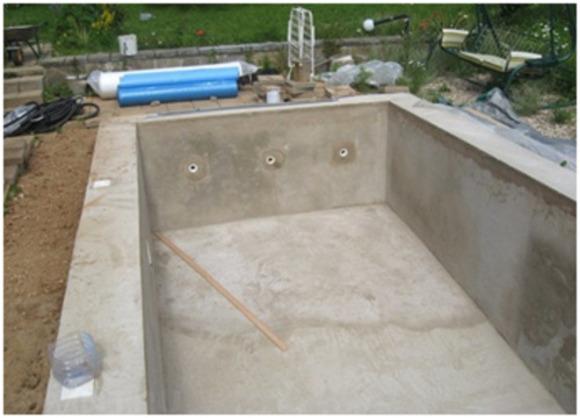 When pouring a concrete bowl, the following materials are indispensable helpers for the builder:
Plasticizer "BIVETOL"

When added to ready-made concrete, this agent increases the mobility of the concrete. At the same time, the concrete does not lose its final strength because the original ratio of water and cement is retained.

When producing concrete, Bivetol reduces the amount of water required (water-cement ratio) without reducing the mobility of the mixture, thereby increasing the final strength.

Bivetol slows down the setting of the concrete (fewer construction joints when concreting).

Increases the strength gain of concrete

Bivetol is also used as a plasticizer additive for cement mortars, ideal for creating "warm floors".

REINFORCEMENT FIBER

Increases frost resistance. Microfiber reinforcement increases the tensile strength of concrete and mortar.

Reduces the formation of shrinkage microcracks.

Increases the wear resistance and impact resistance of concrete surfaces.

Increases the water resistance of concrete.

Fiber hairs protruding from the surface of concrete, screed and plaster act as micro-anchors that mechanically connect them to the subsequent top layer.

FORMWORK LUBRICANT "SPLIT 2000"

This lubricant is suitable for metal and wooden formwork. This material enables the production of concrete and facing concrete with a smooth, pore-free surface. Prevents rust, preserves wood and is compatible with Styrofoam. In addition, the material has the following properties:

Strong anti-adhesive effect

Leaves no marks on the concrete surface

Provides perfect adhesion of plaster and paint to the concrete surface.
Important
The next point to pay attention to: if the pool is in the ground, its outer part must be protected from groundwater. For these purposes, bitumen-polyurethane waterproofing is best suited.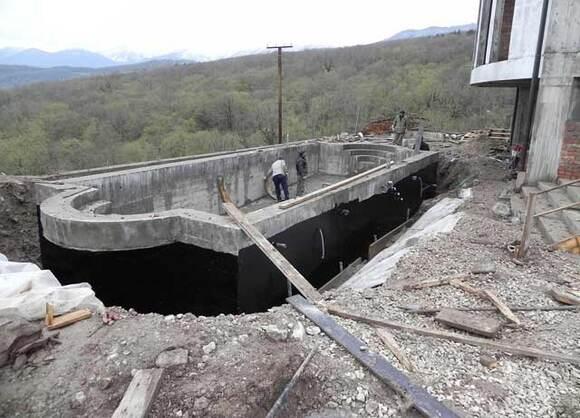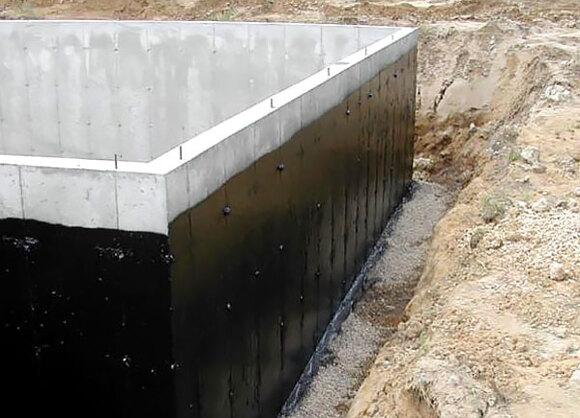 The ISOFLEX-PU 560 BT seal creates a continuous elastic sealing layer without seams and joints. It adheres excellently to various surfaces: concrete, cement screed, bitumen coatings. It is used for waterproofing underground structures, green roofs, as well as for application under tiles in kitchens, bathrooms, balconies and terraces, after previously sprinkling the top layer of the membrane with quartz sand.
Creates a continuous elastic waterproofing layer without seams and joints.
It adheres excellently to various surfaces: concrete, cement screed, wood, asphalt surfaces and steel surfaces.
The surface does not need to be smoothed before applying ISOFLEX-PU 560 BT. In addition, the material can be applied in a thick layer.
Extremely practical as it is easy to mix.
Covers cracks.
It can also be used to seal seams.
Next, it is very important to carry out high-quality sealing of all elements passing through it.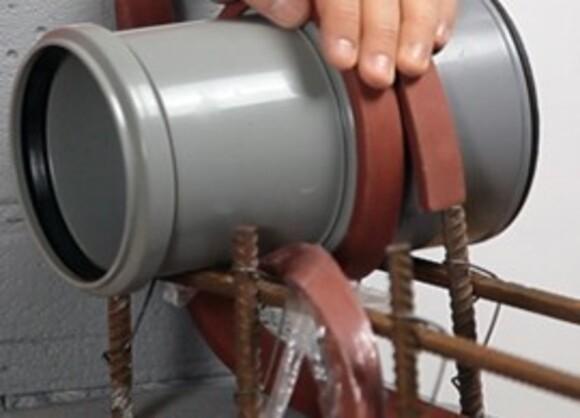 Bentonite cord is used for sealing technological gaps, communication transitions in building partitions and structural joints. The swelling of the cord ensures that the joint is permanently sealed after water has penetrated there.
Placing the cord in a closed concrete space limits the freedom from swelling and the gel formed after hydration is an excellent active waterproof barrier. The swelling pressure causes scratches and cracks in the concrete in the area of the cord to be filled and sealed.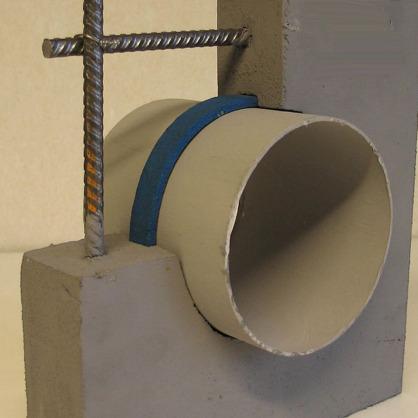 Once the pool shell is completed adhering to all of the above requirements, we can discuss what type of pool surface we want to see. And different options are possible here: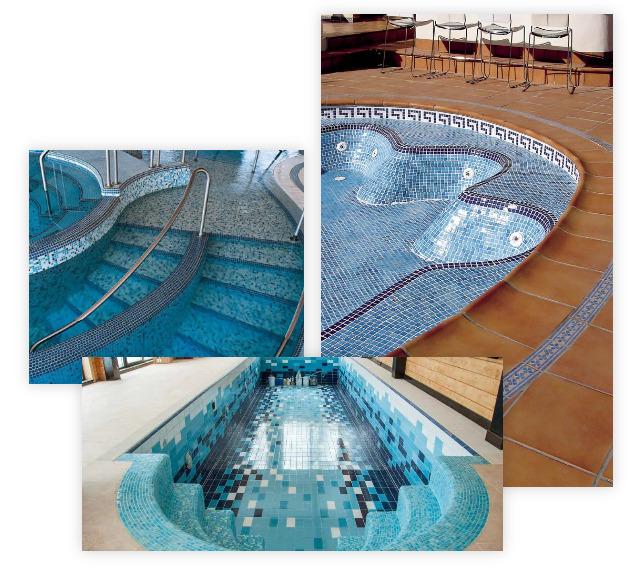 Finishing the pool with tiles or mosaics
In this case, before laying the tiles, the concrete shell must be treated from the inside with polymer impregnation and high-quality tile adhesive and grout must be used to lay tiles or mosaics.
"AQUAMAT SUPERELASTIC"

This is a two-component, ultra-flexible waterproofing mortar that is applied to the surface by brushing. It is used to seal surfaces made of concrete, cement mortar, brick, mosaic, plasterboard, wood and metal. This mortar is used where exceptional flexibility and high adhesion of the waterproofing coating are required. For sealing surfaces subject to periodic expansion and contraction or vibration. Also for surfaces that are already covered with hairline cracks or for surfaces where hairline cracks may occur during use. These areas include: flat roofs, terraces, balconies, above-ground water reservoirs, swimming pools. This mortar is also suitable for sealing basements inside and outside and for protecting against pressurized water and moisture.

TILE ADHESIVE "BOTAMENT M21P" WHITE

BOTAMENT M21P is an elastic, high-quality adhesive for interior and exterior work. The material is very easy to process, creates a hydraulic, shrink-free connection, is resistant to weather influences and is compatible with water in swimming pools. Designed for bonding ceiling and wall tiles made of glazed ceramics, universal glazed tiles made of ceramic clay and clinker tiles. The adhesive can be used to bond building panels. Recommended for use on non-deformable floors made of concrete, lightweight concrete, aerated concrete, cement and lime-cement plaster, full-joint walls and seamless floors.

GROUT FOR TILES

"MULTIFILL SMALTO 0-8" is a colored polymer cement mortar for filling joints between tiles. It has high mechanical strength, excellent color stability and excellent water resistance. Contains special antibacterial components that protect the seams from the accumulation and influence of bacteria. Allows for a shiny surface. Suitable for filling seams with a width of 1-8mm.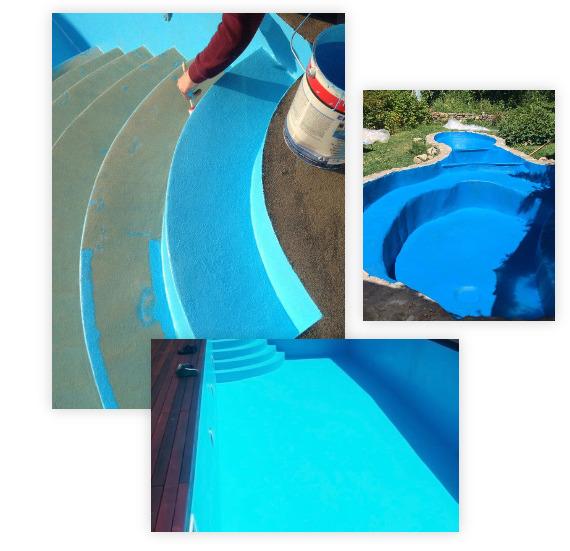 The second option for finishing the pool cover is to apply epoxy or polyurethane paints.
Epoxy paint is used as a protective and decorative coating on all cement-based surfaces such as concrete, plaster and cement screed. It is also applied to metal surfaces. The paint is used in industrial plants, in laboratories, in warehouses, in wineries and other companies in the food industry, at car service stations and gas stations. The material is ideal as a cover for swimming pools.
Two-component colored epoxy system with solvents.
It has high strength and abrasion resistance.
Resistant to acids, alkalis, oil products, solvents, wastewater and seawater as well as atmospheric precipitation.
The third, very interesting and innovative method of finishing the pool with MICROCEMENT
Microcement is a modern decorative and finishing material very similar to Venetian plaster, but much stronger. It is mainly used in interior decoration as well as for finishing floor surfaces, stairs, table tops, consoles, furniture and other surfaces that require strong texture for concrete or seamless stone with excellent performance properties.
But technologies do not stand still, microcement is also increasingly used for finishing swimming pools.
MICROCEMENT "DUROCRET-DECO"

This is a fiber-reinforced polymer cement mortar. Provides excellent adhesion to the surface, water resistance and abrasion resistance. It has a wide range of applications and is applied both indoors and outdoors to walls and floors where certain aesthetic requirements are imposed.

It is used in private homes, shops and hospitals. It is used for special built-in sanitary and hygiene products (sinks, showers).

COLOR "DECO COLOR"

Deco Color is a high quality inorganic pigment used to color cement mortar and concrete.

Ideal for coloring decorative polymer cement mortars. These pigments are added to the decorative polymer cement mortars DUROCRET-DECO and DUROCRET-DECOFINISH as well as many other cement-based mortars. For example in FLOWCRET self-leveling mortars.

Ideal for coloring decorative polymer cement mortars. These pigments are added to the decorative polymer cement mortars DUROCRET-DECO and DUROCRET-DECOFINISH as well as many other cement-based mortars. For example in FLOWCRET self-leveling mortars.

PROTECTIVE PAINT "VANISH PU 2K"

VARNISH-PU 2K is a two-component transparent aliphatic polyurethane varnish.

The two-component varnish forms a waterproof, UV-resistant coating on the surface to which it is applied. This coating has high mechanical properties and chemical resistance. It is used for sealing and surface protection of decorative screed, concrete, natural stone, wood and metal surfaces.

The varnish ensures that the coating does not turn white and fade under the influence of ultraviolet light.
If you pay attention to each of the above points, ensure impeccable quality of work and production culture, and adhere to technology, the pool will not be a source of constant problems and changes, but an oasis of joy for the whole family!